Egypt – The Land of the Pharaohs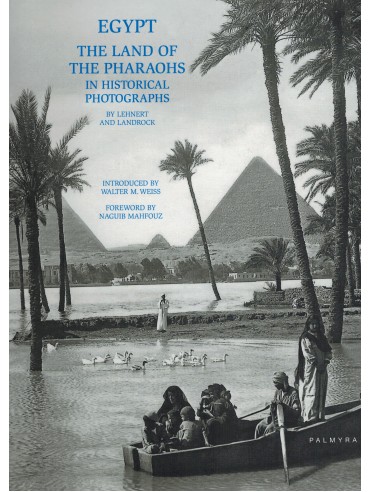 Egypt – The Land of the Pharaohs
Informationen zum Buch:

Photos by Lehnert & Landrock
Texts by Walter M. Weiss
Foreword by Naguib Mahfouz
published 2009 by Palmyra, Heidelberg
160 pages with approx. 160 black and white photographs
Format 22,5 x 29 cm
ISBN 3-930378-83-8
Price: Euro 29,90



MORE DETAILS & EXTRACTS: see GERMAN EDITION


Available in well-assorted bookshops


Egypt – The Land of the Pharaohs
In historical photographs
Egypt has always been one of the most important destinations for oriental journeys. This book reveals the unbroken fascination of Egypt with the aid of unique historical photographs dating from 1923 to 1930. They come from the archive of photographer Rudolf Lehnert (1878-1948) and his business partner Ernst Landrock (1878-1966), who ran a photo studio and a small press from 1904 to 1939 in Tunis and Cairo (The Lehnert & Landrock Bookshop still exists in Cairo).
These renowned photos are published here in book form mostly for the first time. Even eighty years later, they have not lost any of their quality and beauty. The photographic kaleidoscope covers shots of world-famous cultural monuments and excavation sites, pyramids, temple precincts, Pharaonic tombs, sensational finds (including Tutankhamun`s burial chamber), mosques, cities, villages, landscapes, people and scenes from daily life.
The expressive images bring the magic and mysteries of Egypt to life, projecting a superb panorama of that country on the verge of the modern age. The informative notes by Walter M. Weiss supplement the magnificent photos and convey many different insights into the history and culture of Egypt and the life of its people.
FOREWORD BY NAGUIB MAHFOUZ *:
"For me, Egypt is not just a small piece of earth: it is the cradle of civilisation. It is the mother country where human history began. That is why it deserves the recognition and respect of every nation, just as parents, even if inferior to them in terms of wealth, knowledge and power, are entitled to their children`s respect.
The idea of taking expressive photographs that document Egyptian history in one of its important developmental phases shows how close the photographer`s ties were to our country. Even when I was growing up I had heard of Lehnert and Landrock. Their photos have stayed with me as I have made my way in life. I would like to congratulate the Palmyra Publishing House and the author on this successful contribution to our cultural history.
Cairo, May 2004
* Nobel laureate in literature 1988
Foreword by Naguib Mahfouz
Egypt, a Land of Dreams – The changing ages and the eternal flow
Early Photography on the Nile
Rudolf Lehnert and Ernst Landrock – two Life Stories and their Sequel in the Present
Pictures: People – Cairo – The Pyramids and the Sphinx – Alexandria, Port Said, Aswan – Luxor, Karnak, Thebes West with Valley of the Kings, Edfu, Philae, Abydos, Kom Ombo, Dendera, Abu Simbel, Memphis, Saqqara – The Egyptian Museum
A Chronological Table of Egyptian History