The United Arab Emirates and Oman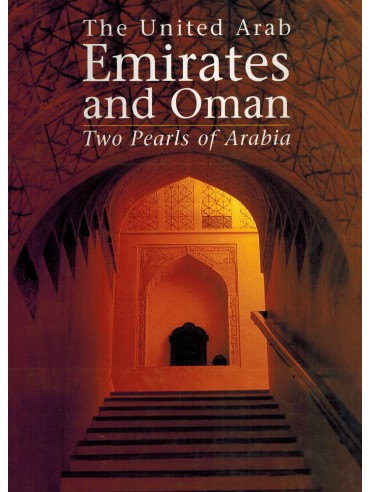 The United Arab Emirates and Oman
Informationen zum Buch:

by Walter M. Weiss (text) and Kurt-Michael Westermann (photographs)
published 1999 by Motivate Publishing, Dubai
204 pages with approx. 250 colour illustrations and a map
Format 32 x 24 cm
ISBN 1-86063-032 4



MORE DETAILS & EXTRACTS: see GERMAN EDITION


Unfortunately this book is out of print.


The United Arab Emirates and Oman
Two Pearls of Arabia
"The United Arab Emirates and Oman" presents a timeless insight into a fascinating region - one which has only recently been discovered as a worthwhile travel destination. Stunning photographs and an engaging narrative depict sweeping landscapes, ultra-modern cities and a people who are rooted in their traditions but also open to progress and waiting to welcome visitors to their countries. These images will provide both residents and visitors alike with a lasting record of two extraordinary lands.
Skyscrapers and Bedouin tents, luxury cars side by side with camels... Nowhere else in the world can such marked contrasts in culture be found as within this region between the Arabian Gulf and the Indian Ocean. A closer look reveals that carefully preserved traditions and unlimited trust in modern technology can combine to create a society which is a model of political stability and tolerance, with high standards of administration, organisation and health care.
Only the spectacular and varied landspace surpasses this fascinating cultural spectacle. Not only are there the legendary frankincense trees, the pearl banks and the oil reserves, but also a wild and rugged mountain range with palm-fringed wadis, endless desert dunes, countless pristine sandy beaches, a sea which is a paradise for divers, and - in the south of Oman - a lushly fertile strip of land with a subtropical monsoon climate.
"The United Arab Emirates and Oman" takes the reader on a journey from the oilfields and cityscapes of Abu Dhabi to the vibrant trade centre of Dubai; from the smaller emirates in the north-east to the sand dunes of the hinterland; from subtropical Dhofar in southern Oman, to the bizarre fjords of the Musandam Peninsula in the far north.
It is concluded by interviews with representatives from different sectors of the population and professions, whilst the glossary provides descriptions of the regions, places and cultural sites worthy of a visit. A map, a historical timeline and a list of further reading suggestions make the book a practical tool for planning a journey within these "Two Pearls of Arabia".
Dubai:
THE GOLDMINE IN THE DESERT SANDS
Abu Dhabi and the smaller Emirates:
A TINY COUNTRY BUT AN OIL GIANT
Muscat and the coastal plain:
IN THE HOMELAND OF SINDBAD AND THE SULTANS
Sur, Sharquiyah and the Hajar mountains:
OF DAGGERS, DHOWS AND DATES
Dhofar and Musandam:
THROUGH ARABIA`S TROPICS AND FJORDS
THE EMIRATES AND OMAN FROM WITHIN:
People talking about their lives
Glossary of Places - Chronological Table – Bibliography