Venice: Tides of Change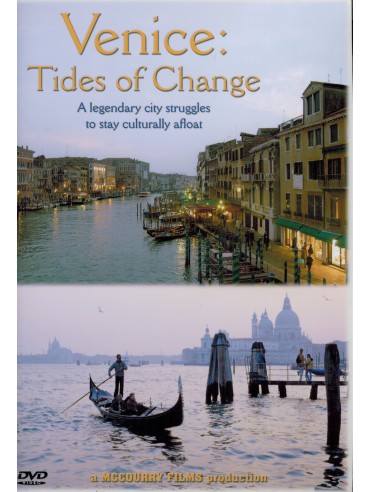 Venice: Tides of Change
Informationen zum Buch:

A legendary city struggles to stay culturally afloat
Documentary film by Craig McCourry (director/ cinematographer) and Walter M. Weiss (writer)
produced by McCourry Films, USA/ Hong Kong (www.McCourry.com) in 2010,
featuring Erla Zwingle, Alberto Peratoner, Laura Zabbadin, Luigina Secco, Marco Farnea and others
Length: 51 min.
ASIN: B000OONRV6

Price: 19,95 US-$

Order this film:

From Amazon
Rising sea levels may not be the greatest threat to one of the world's most romantic cities! For more than 800 years, residents of Venice have preserved their way of life despite changes all around them. But now Venice is struggling to maintain its unique character in the face of serious challenges, including unprecedented rates of emigration, mass tourism and environmental damage. Each year while millions of tourists flock to Venice, thousands of its young people flee the city. In recent decades, Venice has seen approximately two-thirds of its population depart, enticed elsewhere by modern lifestyles and economic opportunities. If this continues, Venice could become merely a 'theme park' -- all show without substance -- no longer enlivened by the vibrant culture that gave rise to its stately buildings and graceful canals. In their own words, today's Venetians describe the issues that threaten to engulf their society, along with their search for solutions to reduce the very real risk that their culture could drift away long before the city's historic landmarks sink into the Adriatic Sea.
This is a very realistic view of the modern city of Venice and the multiple problems it faces which in a sense are at once very different than it's traditional problems and in another sense similar. The problem with Venice has, from the beginning, been one of survival and overcoming the technical challenges of building and maintaining a city in a mudflat lagoon. Venice still faces the same problem and this video addresses the subject in a clearheaded way. I am a great fan of Venice and greatly enjoyed this video.
(a viewer from New Mexiko, US; Amazon / Verified Purchase)
After seeing this video at a friend's home, I decided that I wanted to have it in my library and to share it with my family. While Venice has over the years become a tourist mecca on a grand scale, life for native Venetians has changed drastically.
Most tourists only see what is there today, and it is very commercial. This video addresses the changes from past to present, is revelatory of what it is like to live there today. It tells both a proud and sad story. I found it to be both interesting and educational.
(a viewer from the US; Amazon / Verified Purchase)